In today's organizations, Agile is changing the way we think and work, helping us acquire new principles, perspectives, and values that can lead us to higher success and allow us to maintain our position. Changes are not easy and in some cases can be even painful. However the effects of failing to undertake to these changes would be far more painful.
Can organizations change?
Yes! However, change does not come easy. There are several different factors to take into consideration such as:
Focus
Discipline
Capable individuals
Soft skills
Leadership competencies
Culture change
Understanding
...
The Agile Tour 2013 is back to help you tackle those changes in a more manageable and effective way. This is the biggest event in Vietnam of its kind.
The Agile Tour is an annual conference for organizations and individuals interested in learning more in depth Agile and Lean principles and practices across all industries. This year we will cover a vast array of topics such as:
· Agile Governance
· Agile Leadership
· Management 3.0
· Demystifying Lean - Lean TPS, Lean Software Development and Lean Startup
· Scrum
· Strengthen Teams
· Teams Psychology (Social Psychology and Positive Psychology)
· and much more...
Agenda: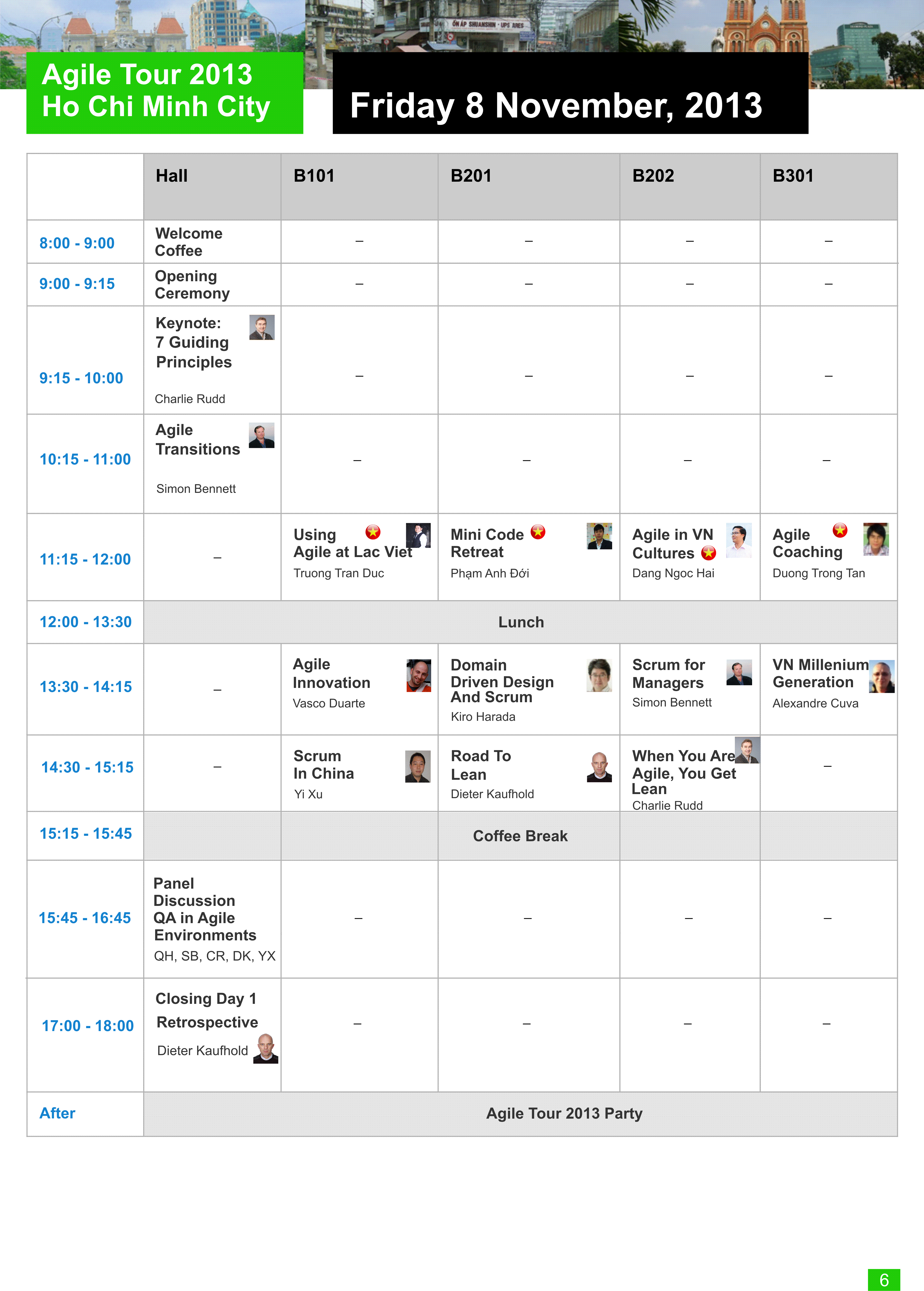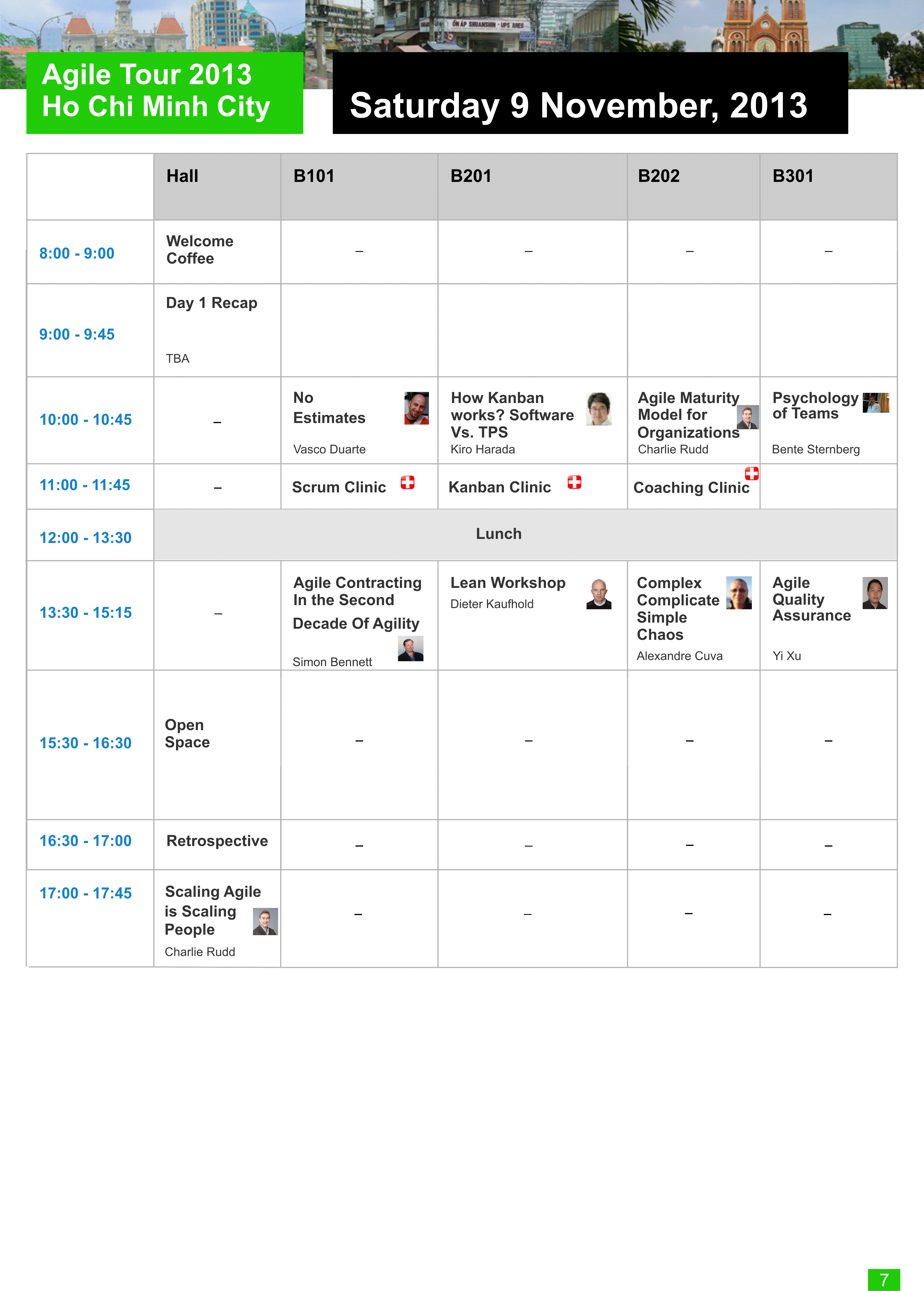 Slides from the Conference
ACU Coffee
Coffee Game Templates
Coffee Game Table Templates
Coffee Game Record Sheet
ACU Culture
ACU Pizza Game
Organization Maturity Model
ACU SCDC
Scaling Agile Is Scaling People
Lean at SAP
Seven Guiding Principles
When you are Agile, You Get Lean
Confirmed Speakers:
· Charlie Rudd, CEO SolutionsIQ - USA
· Simon Bennett, Managing Principle at LASTing Benefits - UK
· Vasco Duarte, Director of Agile Coaching – Germany
· Dieter Kaufhold, Head of Lean Center, SAP AG China - China
· Yi Xu, Senior Agile Consultant, Conscient Consulting Group - China
· Kiro Harada, Toyota Production System Expert - Japan
· Bente Sternberg, Global Management, Trainer and Coach – Vietnam
· Alexandre Cuva, Agile Coach & Trainer – Switzerland
· Duong Trong Tan, Center Head (aka. Managing Director), FPT University – Vietnam
· Pham Anh Doi, Facilitator, CocoDojo – Vietnam
· Dang Ngoc Hai, Head of Department, Scrum Master, Axon Active Vietnam – Vietnam
· Truong Tran Duc, Quality Assurance Manager, Lac Viet Computing Corporation – Vietnam
Agile Tour 2013 HCMC:
Date: November 8 and 9, 2013
Time: Each day 08.00 - 18.00
Venue: SHTP Microsoft Innovation Center, Lot E 1, SHTP Saigon Hightech Park, District 9, Ho Chi Minh City
(it is directly at the Highway No. 1 with the entrance directly opposite of Coca Cola).
Registration is Now Open!
Sponsorship Opportunities:
We are pleased to offer your organization the opportunity to partner with the Agile community in the success of the upcoming Agile Tour 2013 in HCMC and Hanoi.
The Agile Tour 2012 was a great success, attracting around 200 people and covering several different topics and industries in a two day event. This year we are aiming for further awesome and we need your help to accomplish it. None of our speakers are paid to participate at the Agile Tour 2013 - all are donating they time and knowledge to help our community grow. Agile Vietnam is however covering the travel expenses for the speakers and we invite you to participate in the management of some of these costs and enjoy in return a wide window of display for your business. In exchange we can offer you many benefits such as:
· Attract high quality talent from the local Agile Community
· Demonstrate your organization's forward-looking management practices
· Increase your Brand Awareness and Market your products to an influential audience
· Network to create business opportunities
For further information, please review our Agile Tour 2013 Sponsoring Opportunities.
Agile Tour 2013 Sponsors
Location Sponsor:
Main Sponsor:
Platinum Sponsor:
Diamond Sponsor
Gold Sponsor
Silver Sponsor:
Organizing committee
Agile Vietnam, http://www.agilevietnam.org/
Any further information will be posted in this page. Please stay tuned for more updates in the upcoming days!
Page last updated on: November 5, 2013