The main objective is to promote Agile, the proven software development practices to turnaround software development project from notorious death march to successful deliverables and joyful project, to Thai community. Speaker are Agile practitioners from both local and oversea all voluntarily speaking at this conference to share their rich experiences.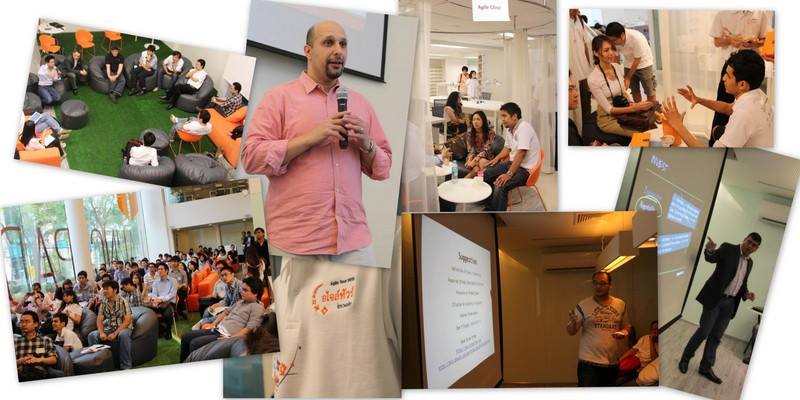 Click here to see more pictures from Agile Tour Bangkok 2012 event last year.
Topic Description:
We all learn from our mistakes, and from others mistakes. And what is better than learning through a picture, as they say "A picture speaks a thousand words". This session is about telling a story through a cartoon, a picture or any creative visual telling your story of fiasco. In the end we take a walk through all the fine arts and vote for the best one. Winners get a prize and opportunity to talk about their story in detail.

Anand Agrawal, Agile practitioner
Agile Fiascos - Art Gallery Bio :
Anand is in the industry for 7 years. He has been with ThoughtWorks for 6 years working in Big and small Agile and Lean projects in team sizes ranging from 2 to 200. Anand has worked in both co-located and distributed teams across locations in different timezones. Helped clients to adapt Agile practices like pair programing, continuos delivery, story writing and so on.

Topic Description:
"When we scale agile, there are Several VILLAINS (Myths& Pitfall) which become as impediments to scale. How Heroes can win the Villains with strategy .
My session will show Practical impediments while scaling agile and it is derived from my experience as Agile Coach and Scrum master in fortune 100 companies.

Introduction :- 5 min
Villains(Pitfalls) for Scaling Agile -10
Heroes(strategy and action ) for Scaling Agile - 25 minutes
Game - 15 minutes
Q& A - 5 minutes


Maris Prabhakaran An Agile Rishi
Villains and Heroes of Scaled Agile Bio :
Maris Prabhakaran has over 15 years of experience in the IT Industry and has 7 plus years as Agile Change Agent primarily in the role of Agile Coach and Enterprise agile Transformer. He is distinguished international speaker on Agile and Executive Consultant at Enterprise Agile. He is Practising SAFE and DAD.

Topic Description:
"Topic ""The 7 Habits of Effective Agile"" will help the respected audience to understand the following:
1. Why Agile?
2. What Agile Development Demands?
3. Challenges it poses for Software community (Developers & Testers)
4. Habits people should develop

This session will be useful for Beginners, Software Developers, Testers, Business Managers and anybody who is interested to know about Agile and also it would uncover the myths of agile."

Manoj Tiwari, Certified SCRUM Master & Agile Trainer
The 7 Habits of Effective Agile Bio :
Manoj Tiwari is part of CPA Global, Noida and leads the Test Engineering team. Manoj is a Certified SCRUM Master and have vast experience in managing distributed SCRUM teams and implementation of Agile tools & processes. Prior to this, he has worked with OpenText Technologies, Vignette, Impetus Technologies and CDAC Noida. Manoj works on innovating test engineering methodologies; focusing on innovating cost effective software testing solutions for web applications. He has been involved in designing RUP and Agile based testing frameworks.

Topic Description:
"Many people think Agile is easy, but it is actually not. It might be simple but it is really on the opposite of easy. Having someone that walks the path before will help you speed things up. It is not just about knowing where the pitfalls are, saving time is the key to help you being competitive in the faster world nowadays.

In this session I will talk about the idea of Agile coach the key benefits of having it instead of exploring the methodology by trial and error, how to distinguish between normal trainers and a real coach, and how to assess how good the result is."

Kamon Treetampinij, Lean/Agile Coach (nickname:Sensei)
Agile Coach : Why you need it. Bio :
After 10 years of leaning and practicing Agile. The more I learn, the more I know not.

Topic Description:
Why perfect agile execution may not be enough to ensure success. What the successful agile organizations do beyond ordinary. What we can learn from the success and failure.

Suradet Jitprapaikulsarn, The 1st Thai ScrumMaster (since 2009)
Necessary but not sufficient, lesson learned from success and failed agile executions. Bio :
The 1st Thai ScrumMaster (since 2009). The only Asian Educator invited to Software Architecture for Educator Workshop at SEI every year (2006-2013). A lecturer at Dept. of Electrical and Computer Engineering, Naresuan University. Focus on effective architecture and practices.

Topic Description:
"Many teams do agile by getting rid of chairs every morning. Some decorate their walls with stickies. Others insist on releasing bugs into production every 2 weeks.

In this talk I will share with you why engineering practices are important and form an essential part of agile. I will give an overview of those practices so your team can be agile."

Kevin Yeung, Software Alchemist
Agile without technical practices isn't really agile Bio :
I have more than 15 years experience in the industry and find myself happiest when I'm in small and engaged teams, continually delivering business values. I've learned techniques that help teams engaged and productive. This has become my focus these days in trying to help others learn these techniques to become happier software developers.

Topic Description:
I am not an agile coach or scrum master or someone in management level. I am a developer who actually got hit by agile transition. I have been learning agile by trail and error with sweat and tears (no blood so far). I will share with you how the transition has influenced, motivated and deceived me.

Chatchai Chailuecha, a dev who survived agile transformation
When I was moving to AgileBio :
Senior software engineer with 10 years experiences in enterprise java software development

Topic Description:
"Scrum is simple, Scrum is hard" said Jeff Sutherland and Ken Schwaber, creators of Scrum. While Scrum is just one of the Agile frameworks, Enterprise Agile Transformation is Very Hard but Very Rewarding. Introducing Agile just for development in a software centric organisation is not easy. Going beyond development and that in a non-software centric enterprise with silos and only waterfall experience is a Rocky Road. Following the US and Europe, now Asia is slowly adopting Agile and companies can not ignore Agile if they want to stay competitive. This topic is about the various agile transformation strategies for enterprises, the typical pitfalls and how to avoid these. These lessons are also valid for other companies. Using Scrum+XP+Lean as an example as a target set of practices, but generally applicable to Agile. It combines Agile with Organisational Change approaches. It is of interest to both Management, Scrum Masters, Product Owners, Agile Developers, Agile PMs , other Agile Change Agents and generally, Agile Teams. While having some theoretical background, this is a very practice based session, with practical applications, whether you are starting a transformation or are in the middle of it, but not getting all the benefits yet.

Adrian Lander, Enterprise Agile Transformer
Eat more and keep eating: a taste of Enterprise Agile Transformations Bio :
A Senior Agile Lean Scrum XP Coach with vast Agile / Scrum, Waterfall and transition from Waterfall to Agile experience. Not just a textbook trainer. Expert in Enterprise transformations and Organisational Change - into Agile. 30+ year IT experience, started with Model Driven Development, RAD & Artificial Intelligence programming. 20+ years IT management experience. 15+ years Agile experience. Early Adopter of Agile principles. Has done all the roles, from developer, data architecture, test manager, SW QM, PM to Waterfall turnaround manager. Program Management on large international key business programmes up to 100M+ USD. Since years fully focusing on coaching teams on Agile, enabling teams and helping teams to improve. Trained by Ken Schwaber (Scrum), Dean Leffingwell (SAFe Scaling Agile) and Lyssa Adkins (Coaching Agile Teams). Moved from Europe to Hong Kong to set up Hong Kong's first Agile consultancy, AgiLive Asia. Trusted advisor for FTSE 100 / Fortune 500 companies. Currently Enterprise Agile Transformation Coach / Lead Trainer for Cathay Pacific Airlines, where he introduced Scrum+XP supported by principles from Lean/Kan Ban. Helped Cathay to deliver their first mobile software, through the Agile teams he coached at Cathay's Innovation Centre and to deliver their first mobile tablet software to support business processes on board. Now guiding the Agile Transformation.

Topic Description:
"This is the second project developed under the Huskycode's Real Agile project. The project is designed such that participants use their free time to learn Agile practices by shipping a usable product that benefit the Thailand software community. In this case, members meet online to develop and continuously release the Thailand Software Engineering Academy website. The team start with most members having little exposure on Agile and Scrum, learning the practices as they are using it. They are coached by experienced members of Agile66 as Scrum Masters and a product owner. We are excited to share valuable lessons we learned from practicing Agile. The open nature the project allow us to discuss everything happening the project in details, a surprisingly hard thing to come by when sharing Agile experience from the trenches. Everything we say that we do, we can show you how we do it. Real test cases, real deployment scripts, real UAT site and real automated deployment to the production site, along with all the traces process improvements, meetings, aha moments, pitfalls. We believe that the audience, especially those who just start going Agile, would benefit greatly from our real open project"

Thailand SE Academy Developers
Real Agile #2: Continuous Delivery in Thailand SE Academy Opensource website Bio :
We are the team learning Agile as we are developing the Thailand Software Engineering Academy website. We use Scrum as over-arching process and practices continuous delivery to get regular feedback from the community. Facebook group: https://www.facebook.com/groups/thseacademy/ Github: https://github.com/huskycode/thsea

Topic Description:
Many teams and organizations focus on 'doing' Agile, rather than following the principles and values. Hence, they are unable to reap the benefits which Agile is supposed to bring in. Values and principles, like practices and artifacts, are not visible. What is visible is a set of behaviours which indicates that the team is just 'doing' Agile and is not 'being' Agile. This presentations attempts to bring out behaviours which indicate that the team is not following the Agile Values and Principles, and also suggest corrective actions.

Sunil Mundra-Agile Evangalist
Youe TEam Is Not Agile If........ Bio :
Sunil Mundra is a Principal Consultant at ThoughtWorks, and is part of the India Consulting team. His areas of expertise include Agile Adoption and Transformation, Agile Maturity Assessment, Agile Training and Coaching, and Distributed Development.

Topic Description:
Sharing what we have been helped, supported and found, plus lesson learned on 2013 training and coaching experience from SPRINT3R team.

Twin and Prathan, Co-Founder of SPRINT3R
Software must build for CHANGE not build for LAST Bio :
SPRINT3R, a joint venture between Siam Chamnankit and Odd-e (Thailand), established in January 2013 by a group of geeks Who are passionate and practicing agile. SPRINT3R is small but mighty

Topic Description:
"Do you feel that your SCRUM team has plateaued?
Are improvements harder to come by?
Do you think your team's performance has peaked?

For matured SCRUM teams struggling to find incremental performance, Scrumban combines the best of SCRUM and Kanban to enable development teams to reach the next level of performance. Join me for an introduction to Kanban, the Theory of Constraints and why Scrumban may be the answer that you're looking for."

Tze Tang, Agile Manager
Scrumban = Scrum + Kanban: Managing flow in a chaotic world Bio :
A career software developer, with a record of delivering enterprise quality applications for various industries. Passionate about creating and leading successful Agile development teams and to coach and mentor developers to be successful technically and professionally.

Topic Description:
When you try to build a team, what you need to do is not to building a team, but to develop a good culture that makes your team grow in the right direction. We will give you guidelines and pitfalls for developing Agile culture for any scale, from 1-person team to big enterprise.

Amp&Pam, Proteus Family
Building Agile Culture for Any Scale Bio :
Amp Tanawat, Proteus Technologies - A coding lover, team-working addict, hyper productivity seeker. Want to deliver a great product(s) with great teammates to customers. Specialize in Pomodoro Technique, Effective teamworking, Retrospective. Pam Suebvisai, Proteus Agility - Chief Technology Officer at Proteus Agility, a tech startup building an Agile project management software http://theeidos.com Agile coaching since 2008 Speaker and staff of Agile Thailand 2012 and 2013 8+ years in software industry

Topic Description:
It is so trendy these days for people to be Agile. It is very exciting to be agile for the first few years when practices are fresh like the new painting, sheet never been slept. Hear the experiences from the enterprise failure and later turn around to be a better change agent. Explore the culture beyond Agile, the high performance culture that fun and rewarding journey!

Arunthep Sangvareethip, Associate director and Executive Agile coach at BridgeAsia
Building high performance cultureBio :
Passionate about building an ecosystem for building high performance team in order to deliver great product that customer love.

Topic Description:
A principle of good software engineering. Before planning for developing reusable artifacts, make sure that you make the best use of what is already provided for you already. Like language specific libraries, OS specific functionality, utilities, etc. http://c2.com/cgi/wiki?UseBeforeReuse

Terry Yin, Supreme Leader at Odd-e
No Reuse Before UseBio :
Terry coaches software teams to improve their engineering practices, programming skills and software design skills, to help his customers to be successful in their product development. And in the same time he also contributes to the software community by sharing his experience, working on open source, and any other fun stuff.

Topic Description:
My experience to applied agile for Thailand government software, in case software development team and product owner team coworking.

Teepakorn Siriwan, Founder & Quarterback, Computer Systems Integration Co.,Ltd.
When I Applied Agile for Thailand Government SoftwareBio :
Founder & Quarterback, Computer Systems Integration Co.,Ltd.

Topic Description:
As an organization moves through its peaks and valleys of product cycle, one of the issue often faces is its resource movement and management. While there are a healthy number of Scrum Masters in the Organization to cater for the ever growing scrum teams, we also find that project delivery always takes precedence over everything else. This means that unless the organization has full time scrum masters, the energy level exponentially reduces. The notion of having full time scrum masters is still relatively new to many traditional organizations, let alone a troop of scrum masters. We need to prove the case.
The discovery of SM contract workers came in a time when headcount was in constraint. All personnel were deployed to support project work. As a stop gap, we hired Contingent Worker SM. To our amazement, this has turn out really well!

This paper will describe the working model of the Contingent Worker SM in an organization, compares and contrasts the benefits of having such an arrangement. It looks at the limitation of a Contingent Worker SM and we came up with a model to make it work. As an organization who both supports the efficiency of an organization as well as enabling new organization in Lean and Agile, this model has worked out wonderfully. The journey will be shared in this presentation and results shown.As any drugs used… We will also caution this presentation with side effects!

By: Lee Ching Ching ; Jessica Lee; Joseph Chee

Lee Ching Ching, Certified Scrum Master
Contingent worker SM - Performance Enhancing SteroidsBio : Certified Scrum Master from UST Global and also the first contingent worker being hired as Scrum Master by client company, Intel, which is not normally done by traditional organization. Together with client, we learn, discovered pros and contrasts of this brand new working model, inspect and adapt. And the journey continues.

All tickets include free international buffet lunch, breaks and Agile Tour Bangkok 2013 exclusive T-shirt. There are different types of tickets on sale but the total number of all tickets will not exceed 250.
We are looking for conference sponsorship mainly to partially support expenses of oversea speakers traveling , t-shirt, and venue . If you are interested, please see the letter here
Q:
What exactly is "Agile66 Stack Free Ticket" and how do I get one?
A:
Agile66 Stack is the proposal to have Thai Agile Q&A site hosted as part of StackExchange network sites (similar to StackOverflow). More details can be found
here
. To qualify for the free ticket, you need to (1) commit to the
Agile66 Stack Project in Area51
, and (2) has total Reputation above 200, then (3) send your StackExchange reputation link similar to http://stackexchange.com/users/7226/m3rlinez?tab=reputation along with your ticket purchase. Ticket with invalid proof will be cancelled.